These coffee filter butterflies are so pretty and so easy to make. Why not try them with your children?
We had a great time making these coffee filter butterflies. These are easy to make and a lot of fun! We used things we had around the house. That is one joy of unschooling – finding an activity to do for something we are interested in.
This is a great follow on from the egg carton caterpillars we made based on The Very Hungry Caterpillar book. Check out the video.
LET'S MAKE COFFEE FILTER BUTTERFLIES
You will need:
Round coffee filters
Washable markers or water color paints
Small spoon or spray bottle
Water
Trays or cookie sheets
Pipe cleaners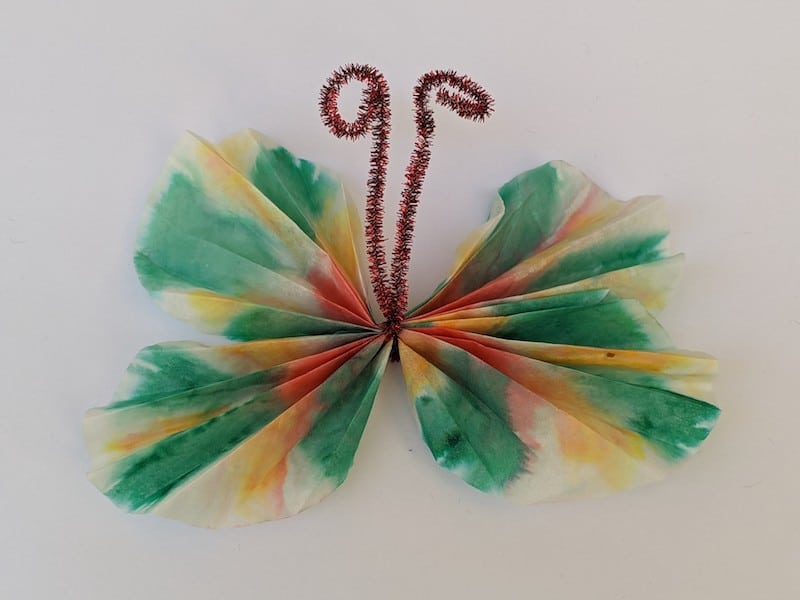 What to do:
Put 2 coffee filters on top of each other and flatten them as much as possible
Using washable markers create your design. Don't worry if it doesn't go through to the bottom filter. That will happen with the next step.
Put the filters (still stacked on each other) onto cookie sheets or trays and drop or spray water on them until the filters are wet but not sopping. NOTE: Do NOT add too much water as you don't want a blobby mess of paper (and it will take too long to dry)
**If you are using water color paints then paint each filter
Keep the filters laying flat to dry. If it is a nice day outside put them out in the sun. You can also dry them in a very low temperature oven for about xx minutes.
Separate the filters.
Fold the filters in an accordion fold
Place the folded filter strips on top of each other with folds facing front
Twist a pipe cleaner in the middle to make a V. Curl the ends to make the antennae
Separate the folds and shape the wings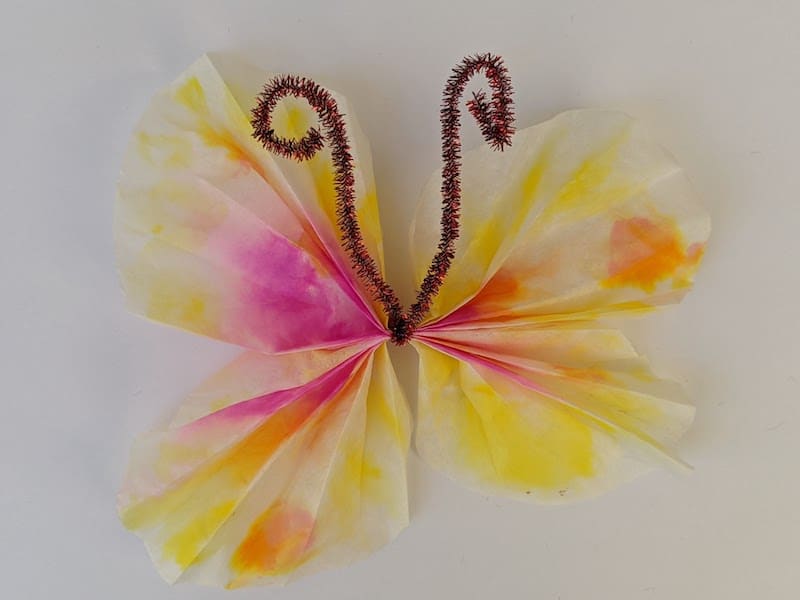 Alternate butterfly:
You will also need clothespins, googly eyes and a hot glue gun.
Follow steps 1-7
8. Glue 2 googly eyes onto the clothespin
9. Cut a pipe cleaner into 2 inch (5cm) pieces and curl into antennae
10. Glue the antennae onto the back of the clothespin
11. Secure the wings in the clothespin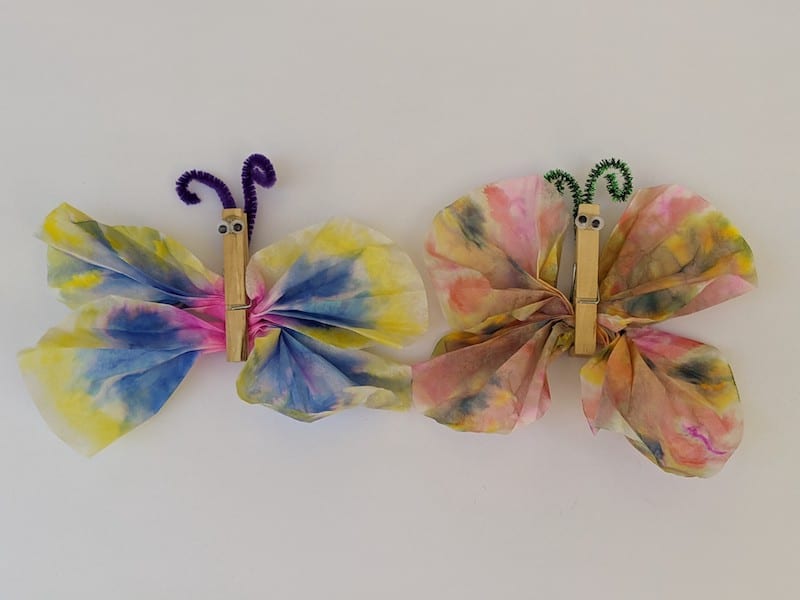 We love making crafts. Check out some of the other crafts that we have made.
Homemade Musical Instruments
More Homemade Instruments
Popcorn Balls
Paper Pumpkins