Fun, colorful, and making the most of things you might have around the house. This simple craft is one for both girls and boys. Make your windsocks and enjoy watching them flutter in the breeze.
When you have children who eat a lot of olives and corn, you end up with a plethora of tin cans. Do we recycle them? Yes we do. Do we sometimes upcycle them? Yes we do! My girls love crafting and this was a great activity to do – using a stack of tin cans we had left over and a whole lot of color! Let's look at how to make Tin Can Windsocks.
Please note: I do have girls, and I sew, so I end up with lots of colorful fabric scraps and ribbons/lace. Don't discount this craft for boys. You can make them whatever color you like. Do bold blues, greens, reds. Why not even camouflage?
---
HOW TO MAKE A WINDSOCK
You will need:
Empty tin cans with label and both ends removed
Strips of fabric or lengths of ribbon
Tacky or Craft Glue
Scissors
Acrylic paint
Paint brushes or sponges
Masking or painters tape
What to do:
Wash out empty tin cans. Remove the labels and using a can opener, remove the bottom of the can. (If there are sharp edges, cover them with masking or painters tape.)
Let the can dry.
Paint the outside of the cans with acrylic paint. Use whatever design you like.
Let the paint dry.
Using tacky or craft glue, attach lengths of ribbon or fabric to the inside of the bottom of the can.
Attach a length of ribbon to the top of the can to hang the windsock. Similarly you can punch a hole in opposite sides near the top rim and use string to hang the windsock.
---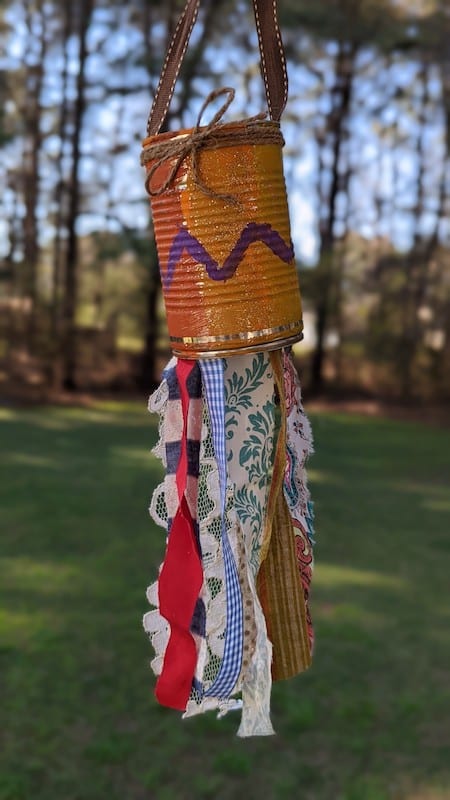 We are going to hang ours in our fairy garden. But they also make great gifts. Have fun making your tin can windsocks and enjoy watching them flutter in the breeze.
Here are some other fun DIYs you can do with your children:
Monster Feet
Crafts with Pinecones
Pipe cleaner Animals
And check out more on this site!